Conquering business frontiers gives a feel of gratification to many. But for Mr.Navrattan Kothari, Patriarch, KGK Group,real contentment comes only through philanthropy. He finds pleasure in the smiles of the unprivileged and the upliftment of society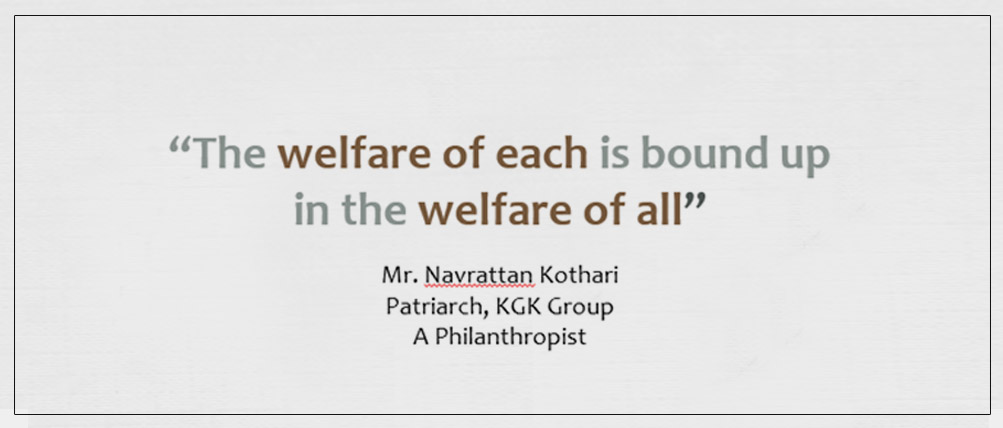 For him, social service is a way of life. He has been compassionate and has always contributed to social causes. One thing that truly melts his heart is coming across those who are terminally ill, especially cancer patients.
Bhagwan Mahaveer Cancer Hospital and Research Centre (BMCHRC)
Considering the unbearable sufferings and trauma of cancer patients and their family members, Mr. Kothari started BhagwanMahaveer Cancer Hospital and Research Centre in Jaipur in 1996. This super specialty 350-bed charitable hospital has now become the largest hospital of its kind in northern India. Managed by KG Kothari Memorial Trust, this hospital equipped with ultra-modern facilities, provides invaluable care, treatment and attention to hundreds of patients at a time.
As the chairman of BMCHRC, Mr. Kothari actively focuses on upgrading the services. The hospital has all modern treatment technology including the rare linear treatment technology. He also ensures free treatment for BPL families along with organising funds detection camps and health clinics across the state for creating cancer awareness among the people.
Dreamz Foundation
KGK Group is also the proud runner of KGK Dreamz Foundation in Jaipur, a recognised institution dedicated to fulfilling wishes of children living with life threatening medical conditions like cancer. It came to existence on 24th March, 2010 to fulfil one true wish of children suffering from cancer and bring them hope, strength and joy.
Dreamz Foundation fulfils wishes of children aging between 1 to 16 years at BMCHRC. So far more than 2000 cancer afflicted children's wishes have been fulfilled. This wish-fulfillment practice gives back the smile that undergoing endless rounds of painful treatment and medication takes away from them.
KGK Group has been able to fulfil wishes with the help of continuous support that we receive from individuals, organisations and corporates.