Trust in a brand is why the buyers come back to trade with them more. It is the lifelong quest of a business to keep this trust going. At KGK Group, we take our responsibility as a brand very seriously and ensure that it reflects in all verticals of the trade that make up our business. We have been in the field of gemstone trading, diamond manufacturing, and jewellery wholesale for more than a century. Over the years, we have managed to achieve unprecedented milestones and carve a niche for ourselves as one of the leading providers of gems and jewellery wholesalers in South and Southeast Asia.
Under the leadership of our family's patriarch, Mr Navrattan Kothari, the group has grown continuously for the last 60+ years, gaining new heights and achieving new milestones. Under his guidance, the KGK Group entered new businesses, made its debut in bigger markets, and collaborated with many governments.
Throughout this journey, KGK Group has maintained a high level of quality in the delivery as gemstones, jewellery, and diamonds suppliers & manufacturer. Part of the group's expertise is owed to its presence on the source, while the other part belongs to the constant innovation in technology. While the former helped us acquire the right quality, it is the latter that helps us in getting a higher yield out of the raw material and deliver quality to our customers.
Over the course of this blog, we will extend our knowledge of the business that has helped us become the best in our field and continues to make us experts in the sector of gems and jewellery. Here is a look at how KGK Group has become a synonym for trust in diamond, precious and semi-precious gemstones, and jewellery trading.
Natural Diamonds By KGK Group
Popularly called the Rock of Gods, Diamond has been amongst the most famous of all gem-quality stones in history. At KGK Group, we have been working for decades to bring the highest quality of stones to our buyers and much like our diamonds, there are many facets to this. While we do maintain a great presence at the source to obtain natural diamonds from the mines, what truly guides the process of quality diamonds at KGK Group is the consistent R&D aimed at delivering something beyond expectations. This truly makes us one of the top diamond manufacturing companies in the world.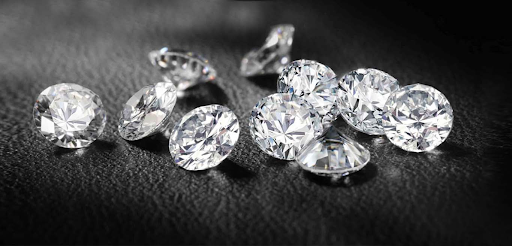 We have experimented with diamonds to bring exceptional quality products directly to our buyers. Through years of research and rigorous innovation, we have been able to create a multitude of new cuts, including Hearts & Arrows diamond and a Perfect 102 Carat Diamond.
Coloured Gemstones The Beginning of a Legacy
The year was 1905 when the founding fathers of the KGK Group first began trading coloured gemstones in India. Today, more than 100 years later, KGK Group is a name to be reckoned with when it comes to trading coloured gemstones around the world. Today, not only does the group holds sites for mining different types of gemstone, but also has state-of-the-art facilities in several countries to help in the manufacturing process.
What further makes us an expert in the field of coloured gemstones is our will to innovate ways that reduce time delays, save cost, and decrease the overall wastage of precious and semi-precious gemstones.
Jewellery By KGK Group
KGK Group has been a well-known name in the world of jewellery wholesalers in South Asia. Not only do we have prowess in manufacturing jewellery with exquisite designs, but we are renowned for the cost-effective jewellery solutions that we provide to our buyers. In addition to this, the option to bring in your business and run it with our support team is also highly loved by our customers.
Our legacy of over a century has seen the group rise from a small shop in the markets of Jaipur to becoming a global conglomerate with a market presence in 16 countries over 5 continents. Our buyers trust us, and if you wish to join KGK B2B trusted partners, all you need to do is get in touch with one of our experts today. Schedule your appointment with KGK Group today.