The fight against cancer is a journey from hopes to cures. In recent decades, tremendous progress has been made in the fight against cancer due to several advances in healthcare, medicine and therapy. This article highlights KGK's contribution towards cancer care.
Navrattan Kothari, a Philanthropist
Mr. Navrattan Kothari, Patriarch, KGK Group is a philanthropist at heart, who finds pleasure in the smiles of the unprivileged. He believes that the welfare of each is bound in the welfare of all. Following his values and ideals, the family enterprise KGK Group has flourished across borders and cultures.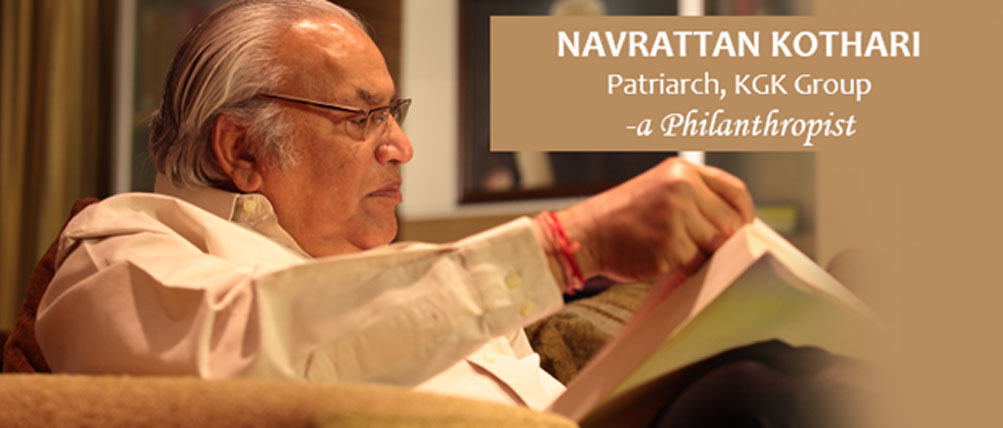 Committed to giving back to the society, the group runs a number of CSR initiatives, including the ones in support of 'Fight Against Cancer'.
KGK's CSR Initiatives for Cancer Care
KGK runs a 200-bedded,NABH-accredited, charitable hospital Bhagwan Mahaveer Cancer Hospital and Research Centre (BMCHRC) in Jaipur. Equipped with all modern treatment technology, the hospital provides advanced medical care to cancer patients. The group also ensures free treatment for BPL families and works for creating cancer awareness across the state.
Along with providing advanced treatment, KGK Group also strives to provide psychological aid to patients and their families. We run a special Cancer Care unit, as an associate body of BMCHRC to help patients fight the disease with confidence. The body aims to encourage a positive attitude among patients, boosting their moral strength and minimising anxiety.
KGK Dreamz Foundation, another project associated with cancer care works towards developing hopes among child cancer patients to fight the deadly disease. The foundation promises to fulfil one true wish of children aging between 1 to 16 years at BMCHRC, bringing joy to the innocent faces.
We are proud of the advances made in cancer care, which have led to improvement in cancer survival rates across the world and helped in reducing the pain a cancer patient goes through.
Know more about our CSR initiatives.