Natural, ethical diamonds are considered a symbol of everlasting commitment and trust. That's what makes them extremely popular among people, especially couples. While diamonds and diamond jewellery including wedding rings, necklaces, earrings, bracelets and cuff links, have always been the first choice of most individuals, the demand for diamond jewellery is increasing even further. The global demand for diamond jewellery has increased by 2% during the last year and is expected to rise even further. This is clear from the recent stats shared by De Beers, which is an international corporation specializing in diamond exploration, diamond mining, diamond retail, diamond trading and industrial diamond manufacturing sectors.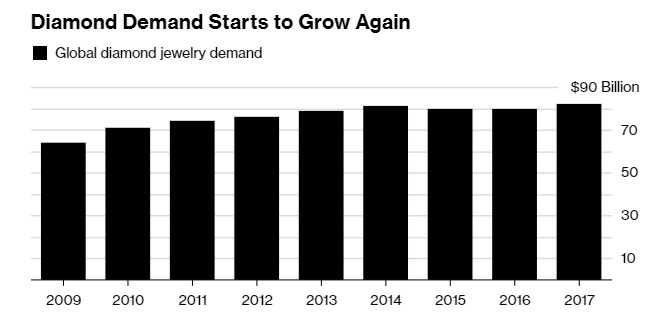 Due to the rising demand for diamond jewellery, De Beers increased its prices for the third time in a row. Other top diamond producers across the world have also increased prices by nearly 1-2%, which accounts to be a lot of money (since it's diamonds). With current insights the diamond industry has been making sales of $530-$550 million, with greater profits for high-quality stones.
The demand for diamond jewellery has risen to a record of $82 billion in the last year, after several years of stagnant growth. Major rise in demand has been seen in US and China. De Beers is expecting the demand to stay on the rise for this year too.
Along with the rise in demand for diamond jewellery, the prices for rough diamonds have increased by nearly 3.4% and that for polished diamonds have increased by 4%. At the same time, the margins for companies, which sell De Beers' diamonds are also increasing, especially if you purchase and sell larger stones.
With a legacy of over 100 years, the KGK Group is known to deal in only natural diamonds and has its own diamond cutting and polishing units in different sites across the globe. Being one of the very few companies, who are preferred buyers of De Beers, Alrosa and Rio Tinto, the KGK Group is trusted worldwide for supplying the finest quality diamonds.To know more about our diamond operations, visit Diamond Operations.